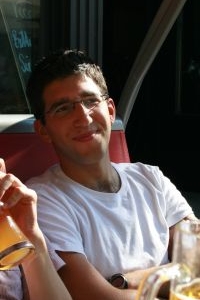 To share our memories of our beloved sun with all of his friends and family:
Luka? Who was this friendly bloke who travelled with a Croatian passport and a Californian driving license?

He was born in Zagreb on September 11, 1978.
He came to England with his mother in the early 1990s from Zagreb. They were fleeing a war. Though he was still very young, he cherished his freedom and did not conceive his life as the life of 'a refugee'. Luka was shy and modest. He gently endeavoured to claim his right to work diligently to make a full contribution to society as a doctor.
He died near Manchester in a traffic accident on May 11, 2008.


Luka's experience and thoughts of life and death as a young man are helping us to bring peace to our minds after the tragic accident.
The extracts below were written by Luka in his Elective report on the time he spent in Kenya March 2001:

&nbsp&nbsp&nbsp&nbsp " In Africa death is part of life. When you die you become one of the ancestors. ...
&nbsp&nbsp&nbsp&nbsp For a Kenyan mother, the untimely death of her baby is just one of those sad facts of a harsh life. ...
&nbsp&nbsp&nbsp&nbsp I plan to go back to Africa in the future to work ideally on a voluntary and humanitarian basis…."
This is how we would like the world to remember him - happy, smiling, joking and on his way to the top of the Emergency Medicine Mount - with Balkan charm and quiet determination.
Rest in peace Luka.